The Joy Davidman Project
This web page is intended to bring attention to American poet and writer, Joy Davidman [Gresham Lewis] (1915-1960). Although best known as the wife of C. S. Lewis, especially through the 1993 movie, Shadowlands, she was a fine poet; in 1938 she was the winner of the Loines Memorial award ($1000) for poetry given by the National Institute of Arts and Letters for her volume Letter to a Comrade; this book was a part of the Yale Series of Younger Poets.  She also wrote two novels, Anya (1940) and Weeping Bay (1950).  She is perhaps best known for the book she published after she began corresponding with Lewis (he wrote the preface for the book): Smoke on the Mountain: An Interpretation of the Ten Commandments (1956). 
Despite widespread interest in the life and work of C. S. Lewis, other than Lyle Dorsett's 1983 biography of Davidman, And God Came In, very little critical work has been done on Davidman, especially with regard to her literary output.  For instance, there is no book-length study of her work, and only a few scholarly articles. I am currently writing a manuscript, entitled Yet One More Spring: A Critical Study of Joy Davidman, that addresses this inattention; seven of ten chapters have been drafted. Through this book I hope to shed light on how Davidman's literary output might inform our understanding of her relationship with C. S. Lewis.  For instance, readers of Lewis have long wondered how it was that Lewis fell in love with and married Davidman, while those who know of his prior relationship with the poet Ruth Pitter are frankly puzzled that he chose to marry Davidman rather than Pitter.  One focus of Yet One More Spring is to explore her poetry and fiction in order to shed light on this conundrum. Equally of interest in my study, however, will be Davidman's early writings, particularly her work in the late 1930' and early 1940's as an editor for New Masses, the official publication of the American Communist Party.
My books on Davidman are part of a series of books, all focusing on C. S. Lewis and the two women writers who most influenced his life and poetry:  Ruth Pitter and Joy Davidman. 

C. S. Lewis, Poet: The Legacy of His Poetic Impulse (Kent, Ohio: Kent State University Press, 2001) was the first book in this overall project.

The eighth book in this series, Yet One More Spring: A Critical Study of Joy Davidman--on the poetry, fiction, and non-fiction of Joy Davidman--was published by Eerdmans in 2015.
Finally, the ninth book in this series, Sudden Heaven: The Collected Poems of Ruth Pitter, A Critical Edition, was published by Kent State University Press in 2018.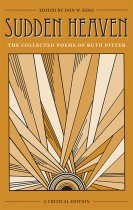 In addition, as a result of my research I have published the following articles:
"Fire and Ice: C. S. Lewis and the Love Poetry of Joy Davidman and Ruth Pitter." SEVEN: An Anglo-American Literary Review 22 (2005): 60-88.
"Finding Joy: A Comprehensive Bibliography of the Works of Joy Davidman." SEVEN: An Anglo-American Literary Review 23 (2006): 69-80.
"Joy Davidman and the New Masses: Communist Poet and Reviewer." The Chronicle of the Oxford C. S. Lewis Society 4, no. 1 (February 2007): 18-44.
"The Early Writings of Joy Davidman." The Journal of Inklings Studies 1.1 (March 2011): 47-67.
"Into the Lion's Den: Joy Davidman and Metro-Goldwyn-Meyer." Mythlore 30 (Fall/Winter 2011): 91-106.
"Joy Davidman, Poet: Letter to a Comrade," Christianity and Literature 62.1(Autumn 2012): 243-274.
"A Naked Tree: The Love Sonnets of Joy Davidman to C. S. Lewis." SEVEN: An Anglo-American Literary Review 29 (2012): 79-102.

Don W. King
Montreat College
Montreat  NC  28757 
dking@montreat.edu